Hello, faithful readers of Kaylen's blog. I'm Pete (Kay's boyfriend). I am starting a weekly tradition of BF guestblogs. We tried having a blog together, but I had trouble being consistent. This is the next best thing!
So, my first blog entry is about a comic book (I know, many of you are probably rolling your eyes). However, Kaylen actually has read this comic and really enjoys it (or at least tells me she does).
Let's talk about SCOTT PILGRIM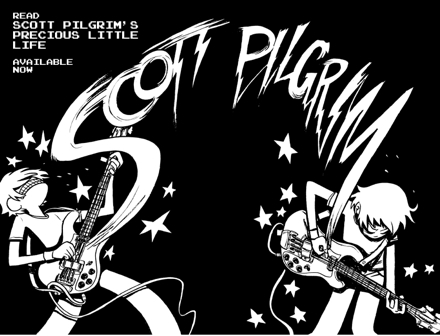 Scott Pilgrim is an independent graphic novel series by Bryan Lee O'Malley. The series (in a nutshell if you will) is about a 23 year old named Scott. Scott doesn't have much going on in his life. He has no job, he plays bass in a local band, and mooches everything off of his gay roommate. However, Scott's precious little life changes when he meets the girl of his dreams, Ramona Flowers. Now, here's the real twist to the book: in order to date Ramona, Scott must first defeat her 7 evil ex-boyfriends in combat.
This series is sublime. It combines influences from most of my interests (indie rock, video games, relationships, comic books, and coming of age). These books are funny, action-packed, and truthful. 5 volumes have been released so far, with a final sixth volume due next year.
Everyone needs to read these comics now if you want to retain any indie street cred. This series will explode next year because Edgar Wright (Shaun of the Dead, Hot Fuzz) is adapting Scott Pilgrim into a movie staring Michael Cera!
Anyway: buy these books, love them, re-read them, and get pumped for the movie!